Planalto Copper Project
The Planalto Copper Project covers meta-volcano-sedimentary sequences and intrusives of early Proterozoic-age with IOCG-type mineralization, located near Vale's Sossego (producing) and Cristalino copper deposits and Oz Minerals' Antas (past producer) and Pedra Branca (producing) copper deposits, in the Carajás Mineral Province of northern Brazil. Lara acquired the original Planalto Project outright from Brazil Americas Investments and Participation Mineração Ltda., between 2013 and 2021, with the property now just subject to a 2% NSR royalty on any production (Lara retains the right to purchase 50% of this royalty for a cash payment of US$2 million).

Lara's exploration work in 2017-18 yielded a series of very promising drill results from the Homestead target, including hole PDH 18-03, which intercepted 130.41 metres between 68.05 metres and 198.46 metres down hole, with an average grade of 0.88% copper and 90ppb gold, within a wider zone of 284.71 metres from surface averaging 0.48% Cu and 48 ppb Au (see Company news release of June 19, 2018 for details). During the second half of 2018 the Company ran a process to find a suitable joint venture partner and concluded a staged earn-in agreement with a subsidiary of Capstone Coper Corp., (see Company news release of February 4, 2019 for details), whereby Capstone can earn up to a 70% in the Project by funding exploration, feasibility studies and electing to finance, build and manage a commercial mining operation, with Lara repaying its pro-rata share of the production financing out of cash flow.

In H1-2019 a further 2,998.86 metres of diamond drilling were completed under the JV with Capstone, 2,569.02 metres of which comprised infill and step-out drilling on the Homestead target (see Company news release of July 23, 2019 for details). Copper-gold mineralization at Homestead is now recognised to underlie an area with dimensions of more than 350m north-south and 350m east-west and is open down dip to the west of the drill grid. The Company filed Final Exploration Reports ("RFP") with the Brazilian Mining Agency (Agência Nacional de Mineração) at the end of May, which were approved on October 31.

Only limited fieldwork was completed in 2020 due to Covid restrictions, but the Company optioned two adjacent licenses covering northward strike extensions to the Homestead mineralization from Mineração Tariana Ltda., and Mineração Zaspir Ltda., (see news releases of January 11 and March 15, 2021 for details) and was able to resume work with additional geophysical surveys and surface work leading to a restart of drilling in Q4, with approximately 2,000m completed by year end, results of which show the mineralization to be present at grades as good or better three hundred metres to the north of Homestead, potentially more than doubling the strike of the deposit (see Lara news release of May 16, 2022 for details). Exploration work continues with an on-going drill program to extend the mineralized envelope and better define the higher-grade zones within it.
Presentation
August 2018
Drill Hole Locations
2022 Drillhole Map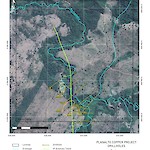 Cross Sections